The Dating Game (Dating Game #1) by Natalie Standiford
July 26, 2016
One of the most "useful" classes you can take is sex-ed. Sexual Educations teaches about the girl body and the boy body as they go from children to adult, and where they suddenly become attracted to each other. When girls lose their cuties, boys are no longer gross, and they want to get together. This class, taught to the students in grade ten at Rosewood School for Alternative Gifted Education (RSAGE) have to take Interpersonal Human Development (IHD), with the final project being what the social dynamics between a man and a women, how they are trial in court, speed tickets, to how often they think about sex.
Holly, Mads and Lina decided to do their IHD together, but what to do for their final project? After a few drinks they started a website called The Dating Games; the objective was to figure out whose more obsess with sex: boys or girls? They also set it up so students at RSAGE could only access it, and made it a match maker service, with them in charge. For Mads this was about getting Sean Benedetto, a senior at the school, to fall madly in love with her. Only it back fired at her, as when she final went on her date with Sean he thought she was a child who was "inexperience" for him, giving her the nickname kid. Mads knew she has to get experience if she was ever going to get Sean, so she puts on her midriffs and miniskirts, knowing this is how you get rid of an unwanted virginity. Where Holly was the only one in the trio who had sex, she knew it was not that big of a deal as Mads made it out to be. Holly wants something real, and to stopped being called the school slut, thanks to her ex-boyfriend. When the nicest guy comes around, Holly has to decide whether he is worth it or not. Where Mads trying to be a slut, and Holly trying to get her slut reputation gone, Lina is stuck in the middle with nothing to-do. Except for the fact Lina is head over heels with her IDH teacher Dan (they call their teacher's by their first name). Yet Lina has competition as a group of goth girls are obsess with Dan as she is, making Lina act fast to steal his heart before them.
Teenage trash. This is what the book is like. You could take scraps of paper from the garbage and write a better book then this. In the authors Natalie Standiford does have a good writing style that is one point making the book go by fast. The first problem you accouter is the point of view. It is third person, so it feels like you are watching the story from above, but it follows a different character each chapter, and sometimes switching in the middle of the chapter. Making the point of view of Lina, Mads and Holly hard as you keep getting the three of them mixed up. The second issue is the "love" part of the story. Holly is okay, her peers thinks she's a slut (she's not) and her "life" in the story is to make people see past her breasts and find a nice guy. Lina she look up what happens to teachers who date students would realize her and Dan will never work out. Yet she is crazy about him, not even giving good guy Walter a chance do to her pinning someone she cannot have. Mads, oh Mads. At age fifteen she is furious that no guy wanted to bang her. Currently in the United States the average age to have sex is seventeen, but Mads feels like she's the only one who has not done it yet. All for Sean! A guy who calls her kid, and before their IDH project never looked twice at her. " 'I got something in the mail from Sean!' Mads waved another piece of paper in front of them. Lina snatched it. 'This is a bill from the carpet-cleaning service,' she said. 'Seventy-five dollars.' " If that is not true love, I do not know what is.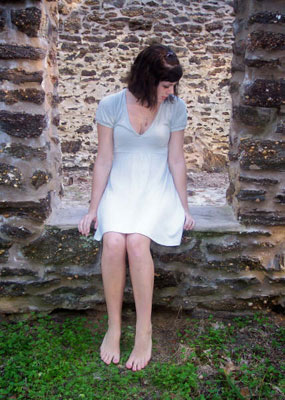 © Katie S., Vineland, NJ