All the Light We Cannot See by Anthony Doerr
October 24, 2018
Beautifully written and moving, All the Light We Cannot See by Anthony Doerr expertly captures the lives of two teenagers in World War II. Doerr challenges our expectations and preconceptions, showing that there is never only one right answer. His novel poses unique questions that challenge our perspective: "Why do we have wars?" and "What do we stand for?" The most important message of the book is that through it all, people try to be good to one another.
All the Light We Cannot See skillfully tells the two separate stories of Marie-Laure LeBlanc and Werner Pfennig. Though they only meet once, Doerr intertwines their parallel lives in a complicated, yet believable way.
The novel begins with Marie-Laure fleeing from Paris to Saint-Malo with her father when the Nazi's invade France. They bring with them what might be the museum's most famous and dangerous jewel. The other main character, Werner, grows up in Germany and listens to broadcasts on a radio he found and repaired himself. During the war he is recruited by the German army to use his skills to hunt down illegal radio signals. They cross paths in Saint-Malo, both trying to stay alive during the Allied invasion of France.
Doerr supports the main characters, Marie and Werner, with two well developed secondary characters: Marie-Laure's father, Daniel, and Werner's sister Jutta. Although they didn't play a big role in the advancement of the plot, they added new views to the story. Jutta, especially, was life-like, and had an interesting personality. I do wish there had been more chapters narrated by her; she disappears for a while and doesn't reappear until the end of the book.
Also, the way Doerr formated the chapters was unique. Every so often he would skip ahead to the climax, and then return to the main narrative. This intrigued me; I wanted to keep reading to find out what happened. I knew the situation the characters were in at the end, but I didn't know why.
I loved All the Light We Cannot See. It was powerful, and it made me think about looking for the little bits of goodness in my own life. The plot line was interesting and beautiful, but I could still see it happening.
Doerr's novel made me feel happy, sad, excited, and nervous, in turns, and all at once. I had a strong connection to the characters because the author described them so well. I would recommend All the Light We Cannot See for people who love historical fiction or a story that holds your attention for hours. It was a perfect mix of action and detail.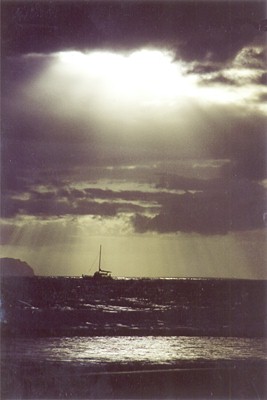 © lily H., Kekaha, HI