Jane Eyre by Charlotte Brontë
October 5, 2018

Jane Eyre, a classic English love story, has captured readers' imaginations for over a century. Vivid and moving, Charlotte Brontë's timeless novel tells the story of a young woman fighting a rigid social order in Victorian England. Though plain and poor, Jane is full of courage and possesses a vibrant spirit. She is passionate about what she believes in and strives to make the world a better, more equal place.
Jane is an orphan and an outcast in Victorian society. She defies the strict rules of social class and thinks outside the box. Her parents married for love, against the wishes of their families, and Jane wants to follow in their footsteps. Though oppressed by a cruel guardian and a harsh
employer, she holds on to what she believes is right. She finds love when she becomes governess to the daughter of the mysterious, sarcastic, and attractive Mr. Rochester.
I enjoyed Jane Eyre because I can relate to the characters. They're all human and have their flaws; I can sympathize with Jane's anxiety in the chapters when she couldn't decide what to do.

Brontës' word choice and attention to detail made everything seem alive and real. In one passage, she writes, "Farther off were hills: not so lofty as those round Lowood, nor so craggy, nor so like barriers of separation from the living world; but yet quiet and lonely hills enough."

While I loved Jane Eyre as a whole, I have one criticism: things lined up so well for the characters that it distracted me from the plot line. I couldn't imagine everything clicking into place that simply. This is a style shown in a lot of Victorian novels, and I think it often makes the story seem less realistic.
This book moved me more than any book I've read in awhile. I felt in touch with Jane, and parts of the book still stick in my mind. For readers who enjoy classics or historical novels, Jane Eyre is a must. Gothic fiction with an element of mystery, it was a wonderful story that kept me on the edge of my seat.
-Willow Kwak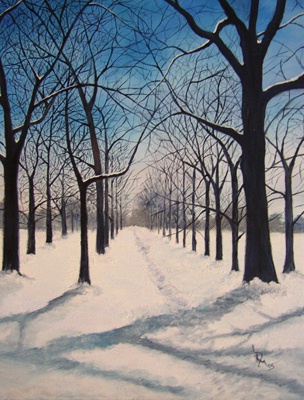 © Lauren M., Scotch Plains, NJ