Our Army
March 27, 2009
The sound of machine-guns rattled through my head. My eardrums felt like they were going to burst, but there was no going back. I had been assigned by Officer Jackson to the southwest bunker, a few miles away from the city of Gurtsberg. It just happened to be where the main army was coming, which gave me a quick mental note that my life could come to an end anytime now. A rifle's bullet whizzed inches from my ear, as an armored truck drove by at full speed. Obviously I wasn't the only person killing other people. It was "the good old ruddy war", as my grandpa used to say.

Some cursing came from behind me, as my comrade came over to me, at the window, or the eye of the bunker. "It broke my bloody water canteen!" said Bobby. He was a good friend of mine, and I always felt more relaxed around him. He had very rugged features, with a face that hadn't been shaved for a few weeks, and his front teeth had been knocked out after a fight at school when he was still a youngster. His features reminded me a lot of my uncle, who had been in the First World War.

I turned to him and nodded behind me. "Use mine, I haven't drunk any. Haven't felt the heat yet." I said. Bobby clunked over and grabbed my canteen. "Well I'm feeling it, and it's making me thirsty." he muttered. I smiled at him. "You're always complaining about something, Bobby." He winked at me, and then walked back to his position. I concentrated my gun on the battlefield again.

A few tanks were making their way over the hill now, and my partners were trying to do something about it. My sergeant called to me and then ambled over on his peg leg. "3 of your comrades are going to call reinforcements. Jim and Pete are handling the mounted turrets, so make sure you give them a hand. Just do one thing for me", he said as he moved in closer. "A supply truck is waiting outside. It has some pills for my leg, it's acting up on me again. This pain is unbearable." I stood up straight and saluted. "Yes sir!" and then ran to the back of the bunker.

I opened up the back door slightly. Everything suddenly became much more realistic and life-threatening at the same time. A huge wind blew by, just to help that, which gave me a mouthful of sand. I quickly spat it out distastefully and looked around. A man was waving to me, from a truck a little ways away. I quickly went over. "Where's the med kit?" I asked hurriedly. "Take those two boxes in the back" he said. "And do it quick, there are other places we need to visit." I picked up the two boxes and ran into the back of the bunker quickly. As I entered the bunker, two things happened at once. A tank took a shot at the bunker, which had nearly knocked me off my feet, and a shot whizzed by just inches by my head. If it weren't for the tank taking that shot, I would be dead right now.

When I gained balance again, my sergeant ran over, grabbed his medicine, then ambled off over to the far side. I quickly ran through the entrance on to the right side of the bunker. As I ran through the door, I nearly fell over with what I found. Bobby was sitting on the floor, moaning and clutching at his left ribs. I slowly put down the boxes and hurried over to him. "Doctor! I need a doctor, quick!" I yelled, but then remembered that there was none here. It was all up to me to save Bobby. I quickly removed his hand from the wound and took some bandages. Then I put a cream on his wound to disinfect it, and tore off his shirt to use as bandages. "Sergeant! We've got a man down!". My sergeant hobbled through the doorway. When he saw the sight he immediately grabbed Bobby to help him up. "Go, you have to leave! We're in for it! They've totally outnumbered us! We're going to have to retreat!" he told me.

I moved towards the door, and then hesitated. My officer had told me to hold it off for four hours, and that meant just half an hour more. Otherwise the plan would not work, and many men would die. If we retreated, the enemy would be able to come around and flank the battalion. The Americans, the army. Our army. I rolled the sound of those two words. "Our army" I said out loud. The sergeant grunted as he lifted Bobby to his feet. "What's that you said?" he grunted. I turned to look at him straight in the face "Our army! This is our army we're helping, and if we retreat, the battalion, the one we were supposed to protect, will be dead; and it will be no thanks to us." I said.

My sergeant looked at me as if I had gone nuts and yelled at me, "If we don't retreat we will die, it's a lose-lose situation! Somebody's gonna die today, and it's not going to be me!" I glared at him with a determined look on my face. "Fine. You go, but I'm going to stay and do my best to hold them off for the rest of the time. We're only a puny amount of men compared to the men that could die today." I said steadily. "It's your call" he shrugged and dragged Bobby out the back. I quickly ran every possibility through my head, anything, to hold them off. I remembered that the turrets were in the left bunker. That could give me a hand. The motor of the transport car was heard being turned on, and then slowly vanished as the rest of the men left. I was left alone.

A huge explosion brought me back to earth. This is what I had stayed for, and this is what I was going to do. I grabbed the handle of the turret and aimed at the first tank. I let go a huge roll of bullets anywhere I could, but it didn't help pierce through the thick armor that held it together. The tank next to it took another shot, with another mini earthquake after the impact. All I had was a Tommy gun and the turret to take down two tanks. It looked pretty helpless. Then I noticed the pack of grenades in the corner, probably left behind by one of the men. I grabbed the last three and strapped them onto my belt. Then I ran around back of the bunker. The two tanks were still shooting aimlessly at the bunker, and it seemed that a group of about a dozen men had also arrived. I checked my watch. Fifteen more minutes left to go.

I sprinted over to some rocks, and then to another clump of rocks. Now I was close enough to the tanks and men to make out the men's shouts. "I think they're gone! Head to the valley!" he yelled. "Not on my watch" I said to myself. I grabbed a grenade and stealthily throw it over the clump of rocks. A second later the reward of the bang occurred. I heard some cursing and then a huge explosion with it. That was one tank down, and one more to go. I peeked over the rocks. Only four men left.

The men were looking around everywhere, trying to find where the enemy was. I smiled to myself then got up and went out into the open. "Hello boys, how about a belly full of lead for lunch?" I yelled at them. I quickly ducked back under cover as a wave of machine gun bullets hit into the ground where I had just been standing. Now some time for some real action. I fixed the Tommy gun to my shoulder, and then made sure I had enough ammo- Yup, at least another twenty bullets, which was more than I needed.

"1, 2, 3" I counted to myself. I jumped up, and shot a storm of bullets into their bodies. They all slumped to the ground in seconds. The tank had also seemed to take notice of me, and had aimed its barrel at me. I dove back under cover as it shot at me. This was the hard part. I threw a grenade over my head and it exploded, but I still heard the sound of the tank rolling along the ground. I had only one grenade left, and I couldn't take any chances. I leapt up to my feet and sprinted over to the tank, with a bunch of adrenaline spurring me on. Its nozzle fixed on me and aimed, but it was too late.

I had jumped onto the tank, out of sight from the barrel's deadly explosives. The hatch opened and the driver came out. He was holding a revolver in his hand, but he was at a bit of a disadvantage since he couldn't move around anywhere. But he took a shot at me anyway, though I ducked, and then threw the grenade into the hatch. The driver looked down in horror, as I jumped off and started sprinting away as fast as I could. I counted silently in my head, timing the explosion. One, two, three... Kaboom! The whole ground shook as the tank blew into pieces. A bunch of debris flew by, and then I stumbled and fell down. My ankle had a strong, burning feeling that ran through my whole body. I winced as I tried to get to my feet. I felt really tired and hot. Goodness, that canteen of water sure could come in handy now. My tongue was so dry, and it reminded me of when somebody took a towel and squeezed all the water out of it. I checked my watch. Exactly four hours. I sighed with a content smile on my face. My job was done, and I had become a hero. My head fell back to the ground heavily. I had saved the army. Our army, I reminded myself, it's our army.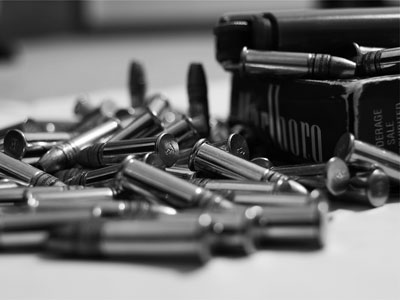 © Noah P., Platte City, MO