With the Immensity of the Sea
November 3, 2014
Finite love found searching in murky thought puddle
In still places loud with unspoken words I barely stand
Barefoot on broken-glass beach with mind a'muddle
Feet bled raw as shattered heart; Deep cuts on life's sand.
They're rocky dreams run aground on boats that never
Left the shore; Leaky ships sinking in shallow soul. Heart
Needs treasure constant horizons where the Sun does e'er
Rise reflecting true life off shattered love as breathtaking art.
Infinite love found searching in unpredictable tide living
In still places loud with unbroken promises I dare dance
Barefoot on mosaic-life beach with heart e'er a'giving;
Harshest blood washed forever away in Ocean's romance.
I'm off to truer worlds, the rising Sun reflecting o'er me
As I learn to long love with the immensity of the sea.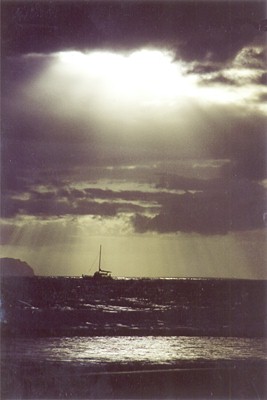 © lily H., Kekaha, HI