Sunday Morning
MAG
September 23, 2011
Every Sunday morning
You can be sure to see
The beautiful old couple
Sitting in pew three.

I can't help but notice
The love in his eyes
Not just for his bride
But his God lifted high.

The strong bond between
This man and his wife,
It's something I'll strive for
My entire life.

I sometimes notice
My thoughts drift away,
I think of their love
And forget to pray.

We say the Lord's Prayer,
The church as a whole,
Her hand in his,
They pray with their souls.

He steals a glance
At the woman on his arm,
He smiles and blinks
As a tear causes alarm.

He bows his head,
Quickly finishes his prayer,
Squeezes her hand,
And smiles with care.

As Mass comes to close,
He looks at the cross,
Mouths a quick thank you,
Then nods in awe.

Now Mass is over,
I slide out my pew,
Smile at the man
Who then smiles too.

The lesson I learned
Is short but true,
Love is so strong
It captivates you.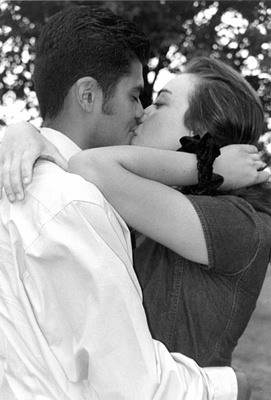 © Yaniris M., Boston, MA