RoallerCoaster Life
July 24, 2010
We go back up and back down,
Looking for something to stop us,
Going in and out,
Im trying to stop your hugs.

You tell me you love me,
But then go kiss,
The next girl you see,
You think i was just gonna miss, that

No matter what i do,
I cant stop loving,
Seeing you,
But i just keep shoving,

I feel like we're never gonna stop,
Going like a roallercoaster,
Nothing is ever gonna top,
This life of going over and over.

My mind is getting smaller,
I cant think,
The fading in the colors,
I feel like im going to sink.

Going round and round,
Like a roallercoaster,
This weird little sound,
Its really a moster.

All i know were going side by side,
With nothing to end,
Like a roallercoaster life,
You say we're more than just friends.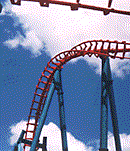 © Kristin L., Utica, NY