Hidden Beauty, Forever Broken
MAG
March 27, 2010
The moon shines upon the glassy surface
of the hidden black lake in the forest.
The stars glistening in the blue sky's place,
the moon illuminates the trees at rest
as they gently sway in the silent wind.
Suddenly, the forest has changed;
the sky is now lit with the forest's end.
Fire engulfs all in its path deranged,
consuming the trees and burning the land.
The fire moves quickly, making a path;
leaving behind a barren wasteland.
Through the flames and smoke, a
menacing wrath
disturbs the once beautiful hidden lake,
for the beauty with it the flames will take.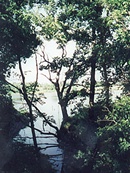 © Jennifer A., Plattsburg, MO