Skin Deep
January 19, 2017
[chorus]
'Cause words oh they cut so deep.
Why can't they just stay at the skin?
I'm trying to breathe it in,
Living the life I'm meant to live.
Giving my all this one last time;
One last time.
[Verse 1]
Whispers in the dark tonight.
As they scream and shout.
I'm reminded of the lives we live;
Apart from these cold hearts.
As time rolls by,
The silence inside is slowly cutting out.
Someday we'll live,
And not just to survive.
(Chorus)
[Verse 2]
Silent dreams that flow on by,
While I stare into perfection.
Why can't I just be myself,
And still live right?
Apart from this world my soul lies still,
As I cry the night to days.
Dreaming of death I find my light,
That's fading far away.
[Chorus  (subtract last two verses)]
[Chorus  (normal)]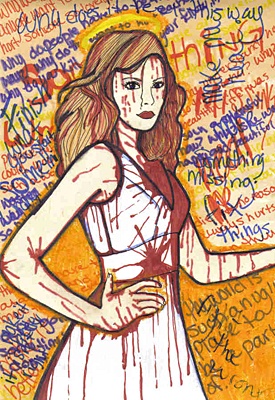 © Sara D., Aiken, SC