My Angle
June 29, 2013
You make me want to scream
you make me want to shout
you make me want to tear my hair right out.
You struck him from the sky
tumbling down he went
in a fiery hell.
He cracked there ground he hit
you looked him in the eye
stabbed him in the heart
and my angle died.

From his once blue eyes
streaked a single tear
it hit the withereed earth
and life began to grow.

Even with your wrong
he still preformed a right
your own dark shadow
writhed within his light.

I lay down on the ground
growing with the life he gladly gave
I pulled the bloody knife
It slid across my thumb
our blood mixed togethere
the battle finally won
I looked into his eyes
as his life returned.

You shouldn't play with fire
my angle said to him
standing up he grinned, tired but alive
your always gonna burn
when you play with fire.

The ground beneath your feet
cracked and split in half
you begged for mercy please
but my angle only laughed
and my demons died.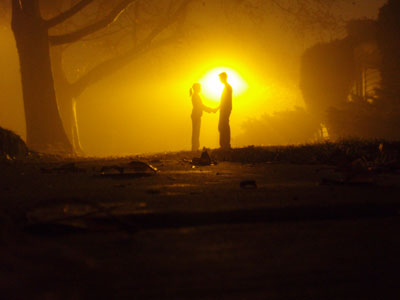 © Tanner H., Kaysville, UT