If I were bird
February 12, 2010
If I were a bird, boy I'd fly to your house each night. And in the summer, we'd lie under the stars and I'd take you for a ride. You'd brush your fingertips along the surface of the moon. And then we'd crash land right in the middle of your room. I'd ditch my wings and we'd sleep all through the night.

If I were a fish, boy I'd swim across the ocean just for you. I'd teach you how to breathe underwater so you could explore Atlantis, too. We'd just swim around, at a thousand feet under. Staring at the oceanic world and all it's wonder. We'd get washed onto shore where we'd sleep all through the night.

If I wasn't yours, boy I'd make you fall in love with me. I'd write you little poems and hope that one day you would see. Your skin would be caressed softly by my fingertips. And I'd take such good care of your lonely lips. I'd sing you to sleep, so that you'd dream of me all through the night...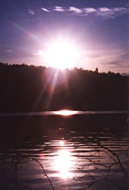 © Laurie T., Hopkinton, MA