you changed my life..for worse !
October 5, 2009
everything happened too fast
i trusted you &gave you my heart
i did anything to make that love last
but you broke it with a knife
now it hurts to remember the past
you always wanted me to be your futur wife
&now we are apart
i can truly say..you changed my life ! but made it too sad
can do nothing just remember good things we had
and at the end you became so mad
you changed my life for worse
the sky was blue ,smilin,with a beautiful sun
now clouds for you, are cryin,and you can't run

thought all i see is rain
i never wish you come back again
kz all you gave was cries & pain
i wish i never met you &your lies
you were never real
i won't forget about you but you made me change the way i feel
because dear..
you wer never near !
you walked into my happy life & caused me a tear
now it's so clear !
you're in sorrow
but i ain't be here tomorrow

remember when everything was right ,
everything was white
now it's too dark & there's no light
because all you ever wanted to do was fight
& all i can do is write

i'm not your slave
you can't let my heart bleed
everything you wanted i gave
but you always had more things you need

even if i'm feelin cold
you're not the one i can hold
because your love was sold

of course you still have something to say
but i can't hear & wait
kz you made me a life i hate
just walk away..
you're not the one for me today !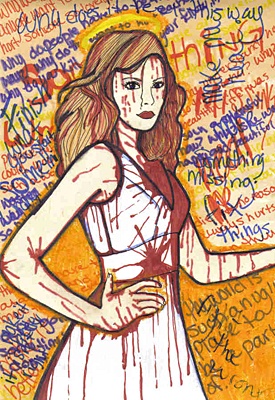 © Sara D., Aiken, SC