Caffeinated Confidence
May 2, 2019
You can tide the false ignoring,
it will all end when the morning coffee wakes you.
If you consider you a quitter, then the blackness and the bitter's all it takes you.
And you can drown your thoughts in steam
and douse your doubts in heavy cream.
Indulge in caffeinated confidence and pin your tearing seam,
because all they want to see
Is how sober you can be
when you live off drugged up, worn down self-esteem.
You can ease up the regret cuz
the insomnia can't get you in your wake-time,
and the pills you take will only make your nightmares come to shake you in the daytime.
Like when your bridges start to break,
the sound the washer likes to make.
Like when you're standing from a height
and why you wear a mask at night,
because all you really need with your phenylalanine
is a pick-me-up so why not try caffeine?
When you've set more tea to steep
and you've counted all your sheep,
indulge in caffeinated confidence to get yourself to sleep,
cuz although you like to dream,
you're not as fearless as you seem,
but you can fake it till you make it with the drug that keeps you clean.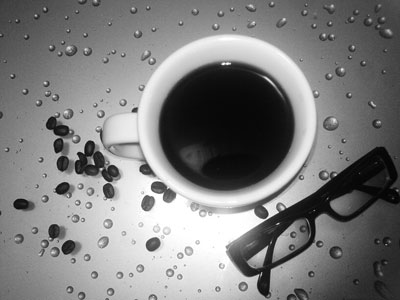 © Hannah U., Staten Island, NY