Listener.
May 22, 2013
I listen.
I listen listen listen.
And keep everything tucked inside.
Your missing.
Missing missing missing.
Out on things that are barely keeping me alive.
So tell me.
Tell me tell me tell me.
That your worries are worse than mine.
And I'll sit here.
Sit here sit here sit here.
And slowly tear my own book in half; stripping it bind by bind.
I lean.
I lean I lean I lean.
Against that cool wall. Waiting for you to realize that I'm slowly falling apart.
Dripping.
Dripping dripping dripping.
Into an empty cup that never fills or or never stops. A never ending start.
I hold back.
Hold back hold back hold back.
Everything that's building up inside me like a bubble worn and watered.
I close
I close I close I close.
Close my eyes to the days when I never saw darkness or a face left un-faultered.
I lose
I lose I lose I lose.
All feeling in my body except my chest which is a knot of messy, tight thoughts.
I grab.
I grab I grab I grab.
At the last piece of confidence I have with me. The last remnant to be found or brought.
So I cry.
I cry I cry I cry.
As I watch the last piece of myself shatter its unique glow into crystals on the floor.
And I see
I see I see I see
As that last piece floats into the sky, like a feather falling; no more.
But
But but but.
I smile
I smile I smile I smile
And listen to your worries dear.
I don't show
Don't show don't show
That I have insecurities, faults, or fears.
Because that's not how the strong show things.
And that's not how I'll be.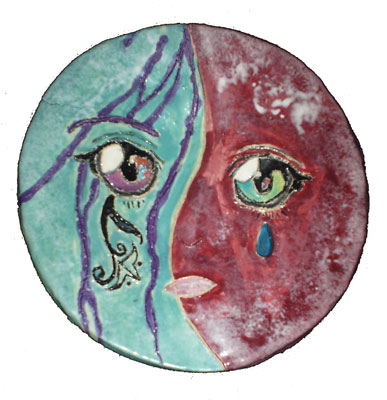 © Angel V., Tecumseh, MI