My Body is a Squiggle, My Feet are on Backwards
July 23, 2011
My body is a squiggle,
I have 46 eyes,
I talk when I giggle,
And my hands look like pies.

My feet are on backward,
I have six noodle like arms,
I twist and bend like rubber,
But my smile always charms.

I live in a world of upside down,
With fish in the sky,
And birds in the sea,
Where a smile is a frown.

Everything here,
Is clear cut and defined,
A place where right and wrong,
Still bind.

True the sky is purple,
And looks like cupid,
And ants are the size of deer,
But I still think,
I'm better off here.

Here the air is clean,
Not grey with smog,
There isn't a single toxin filled stream,
And no one is greedy or a hog.

We live in peace,
No wars are fought,
No one lives in the street,
And we take comfort in family,
Not just the things we've bought.

True the cherries are blue,
But here freedom has no price,
No one must go to the bloody altar of battle,
To be our protection, and our sacrifice.

Yellow faces may seem strange,
Even in my dream,
And the fire that warms the hearth,
Looks like a corkscrew and is definitely green,
But I still think,
That we appreciate life here better,
And I feel so much more worth,
Than I ever could on Earth.

We are friends to each other,
Every striped and polka dotted squiggle a sister,
And every star splattered spiral a brother.

Our families may seem quirky,
And possibly a little weird,
My sister is a turkey,
My father is a sheep sheer,
But at least here,
No child lives in fear.

It may only be a fantasy land,
A creation of my overactive imagination,
But I think it's rather grand,
Pay attention,
Take an observation,
Maybe we could learn,
A thing or two,
From this made up world discern
Something to help us put out our fires,
Before we burn,
Along with from where it grew,
This better place,
In my imagination unfurled,
Could be,
Don't mean to brag,
But a saving grace,
And on my part,
A total ace!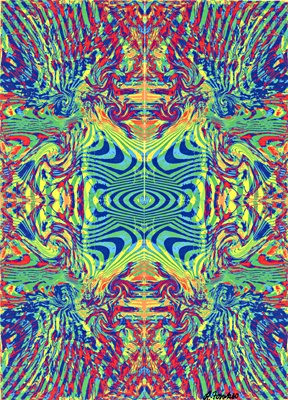 © Ashley F., Quincy, MA