A Musical in Haiku
October 26, 2017
Last night was sloppy.
How many times have they said
That word? At least twelve.
Places! Thanks, places
Get to your places, and-- hey!
No talking backstage!
I said no talking!
You're not children, after all
Just because you're twelve
My jazz shoes have holes
I can taste the speckled stage
Right through my black socks
One microphone is 
Red, and the other is blue
I like both colors
The mic, you should know,
Feels purple, not red or blue
Purple's cool and hot
Pray for the sound booth
Pray for the understudy
Pray you're not sloppy
Imagine all them
When you come back from Broadway
To sign their playbills
Bow, and skip offstage
To a magic music world.
This is not that world
This is not that world
Because it is much better
Even when sloppy
In a wonderland
You can't gossip about who's
The worst director
We trade grins when they
Say "sloppy", because we both
Counted it twelve times
Here at this theatre
We are Broadway on Earth, and
Always talk backstage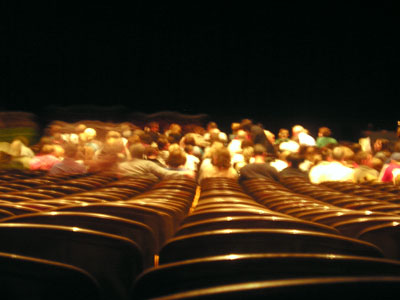 © Jessica P., Bethel Park, PA