Northern Lights
September 24, 2011
I stood quietly
In the corner, staring at
A little freckle

On my palm that I
Did not realize existed
When you had entered.

It was as if the
Curtains on the windows were
Thrust open, and the

Sun lost itself in
Your eyes, just as I did, and
Just as the daisy

Tucked away by your
French braid did. And you sparkled,
Your yellow sun dress

Could not have been more
Unlike the brave star itself.
And your irises

As you looked my way
Rivaled the twinkling bundles
Of light in the black

Atmosphere above.
You sauntered towards me, one step
In front of the next,

And it disheartened
Me to wonder how something
So perfect as you

Could escape from the
Merciless chains of heaven
To walk my way, and

I comprehended
Slowly that perhaps you thought
That I was more than
Perfect too, and that
Perhaps we could make a leap
Of faith and converse

With one another,
And my footsteps were heavy,
One in front of the

Next, but they were quick,
One footstep in front of the
Next, and before I

Could conjure up a
Compliment you began to
Tell me about the

Way the North Star shone
Tonight, and how you wished you
Could see Aurora

Borealis, and
I asked you what that was, as
I did not recall

Astronomy terms
From high school, and you informed
Me that they were what

You noticed in my
Eyes, with the way the fading
Sun shone directly

Into my pupils,
And I suddenly recalled
What the Northern Lights

Were, and I told you
That Aurora herself, the
Roman god of dawn,

Would have been jealous
If she witnessed how your eyes
Rose the sleepy sun.
And you smiled, you
Told me how sweet I was this
Evening, just as you

Turned around and left
My bleeding heart, one footstep
In front of the next...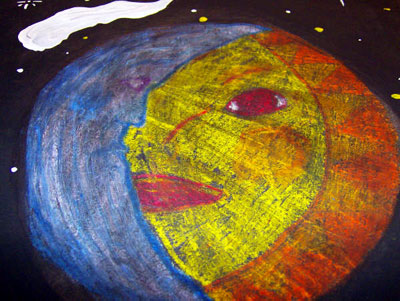 © Kimberly H., Summer Shade, KY