Life's Games
March 18, 2018
Cry for what was. Cry for what is.
Cry for what's to come.
Back and forth. A game
of tug-of-war.
I'm on one end,
Fate's on the other.
Time and Love
both make fools of me.
I'm just a human,
And already, at age 17,
I need to retire.
And Confusion, it's like
a truck, constantly running me over.
I wish it wasn't this way.
Wish I didn't ponder Death each day.
And oh, how Sadness has got me
in its clutches
when it isn't wanted,
like a crazy, attached ex-lover.
Screw Sadness.
I'd rather fly a kite;
be with Happiness.
How I long to return
to Contentment and its beauty.
A reassuring ocean breeze.
But that's life----
it's up, down, sideways----
it loves to play around
with us. The fragile. The lovers.
That's fine.
It will be okay
in the end.
It will.
I'll smile and be strong
And brave.
No one and nothing
can stop me.
Smile for what was. Smile for what is.
Smile for what's to come.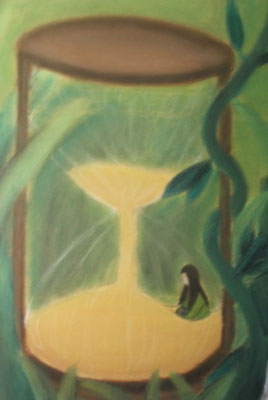 © Carollynn G., Hawthorne, NY