A flower in the Seasons
March 22, 2018
When you first showed up, you were like a flower in spring time.
One who had just bloomed, showing off your vibrant colors.
Everywhere you went, a brightness seemed to surround you.
It was April, you smiled as if nothing was wrong.
When in reality, everything was wrong.
Your bright attitude, was just a facade to hide your weakness.
Then summer came, your personality started to fade,
your brightness started to dull.
Like a flower in the summer heat, you dried out.
You got more sick, yet you continued as if nothing was bothering you.
July rolled around, and you disappeared.
No one knew what happened to you, you faded into the mid-summer breeze.
The brightness you carried around was gone.
Turns out you were in the hospital.
You smiled and laughed, even though you were sick.
You claimed you'd get well again soon, you lied.
August came, you looked better.
You acted as if you were better too, something was off.
You were different.
Your smile, not as bright.
Your personality, not as radiant.
Like a flower, you slowly withered.
Then fall came, and you fell.
Before long you were back in the hospital.
The brightness around you had completely faded.
You were a dull shadow.
All your radiance, was gone.
You seemed like a clay figure, or a wax doll, rather than a live person.
You were flower struggling to hold on in the Autumn weather.
You faded, and lost your color.
Winter came. You were a flower without its petals,
An empty stem.
Lost of all its life.
There was no color, nothing but an empty gray.
You were gone, you flew away with the harsh winter breeze.
Life moved on, exactly the same as it was before you came.
No matter how hard you tried to be remembered,
You were forgotten,
I will remember you though,
I will always remember the beautiful flower I saw,
On that April day.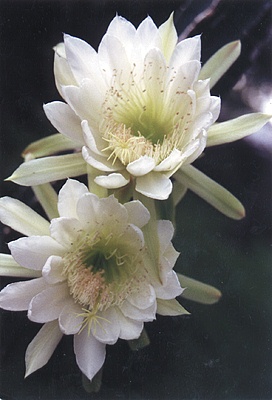 © Lindsay T., Vernon, TX