Alien
February 8, 2018
I may not be bugged eyed.
But I clearly don't belong here,
that cant be argued or denied.
I want to live on Mars or disappear.
An alien, but  so strangely human-like,
I haven't always been like this
but numbness has a harsh strike
and an addictively burning kiss
I used to be a human, like you.
What happened to change me?
It's so difficult to tell whats true.
This crazy house of mirrors is reality?
My brain is bare and empty,
I was afraid I would be caught,
what if the humans were to see,
It makes me so distraught!
I've learned to copy and paste,
plaster on a sunshine dripping smile
even with the bitter aftertaste
of being in this constant exile
My mind is filled with cotton
and an eerie eternal sting
all my thoughts are forgotten
I'm not an alien, I'm nothing.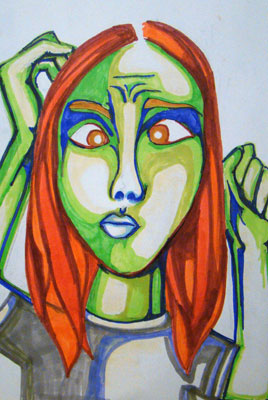 © Michelle L., Syosset, NY