To My Future Daughter:
February 4, 2018
Im writing this to tell you all the thing I wish I had someone to tell me when I was growing up, I only hope that you'll listen to me but if you don't please don't ever be afraid to ask me for some guidance every once in a while. Im always going to be your best friend even when you get older and don't want me to be.
Im writing this because I lost my mom at such a young age and if that were to ever happen, baby girl I want you to hear all these wild things from me. Its a rollercoaster I swear, There are ups and just as much downs but keep your chin up. I didn't create a person who gives up so easily. I created such a beautiful soul , one that will not be shadowed or  crushed by others who weren't worthy to be so close to you to begin with.
Im writing this because I don't ever want you to feel the pain of staying up all night crying because a foolish boy was to bid to see my baby shine. Boys will crush your heart, thats probably all they will do your whole life but please never give up on love. Never close your heart and build up walls because those leave marks. Your first heartbreak will be the worst, It hurts the worst. Its probably one of those pains that never actually go away, they just fade. It'll change you, He will change the way your smile looks because once he leaves it wont shine as much as it did before. I promise that changes. You don't cry forever.
Keep your guard up, Girls aren't the nicest sometimes either. Basically no one is your friend and we all have ourselves to save in the end. Friends come and go, Some of them are real and others just cant wait to see you fall. Prove those f***ers wrong, your a champ. I didn't give you life for others to expect you to change the beauty within yourself.
Im writing this because self image was an issue for me and I never want my child to resort to pain to feel better. If I'm ever missing something, please guide me because I wont always see your pain, you've gotta keep me in the loop. Im not going to be the mom who losses her baby. Embrace yourself, you'll love life so much more.
Some of the best advice I was given growing up was " Be kind. Love harder then anyone else around you and stand last because your strong and you know it."
Love ,
A mother that just wants the best for her future daughter.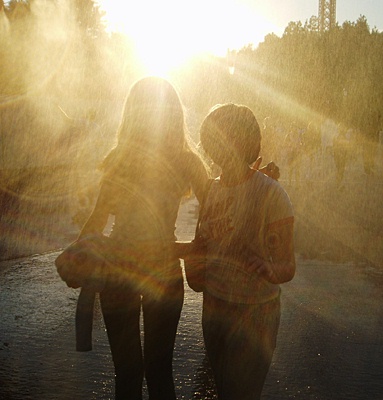 © Rebecca Y., Los Angeles, CA