The Insomnia Addict
January 7, 2018

I don't know when I became addicted to wakefulness.
I woke up one day, eyes red-rimmed and open, and realized I could not go back to sleep.
Canvases of shadows encased my room, strangling me like a noose. Pale light from my window blanketed the floor, revealing the dull colored planks.
And I was awake.
From that night on, I have been awake. I have watched shadows grow longer and cold mornings arise. When I look in the mirror, my eyes are two scarlet rings and my hair is a washed-out maroon. My skin is pale yellow, like the moon, but with no glow.
Being awake can be difficult.
Sometimes my sunken eyelids grow heavy and I almost sleep. But then I am snapped awake, harsh and violent, as though someone has slapped me across the face. I am brought back to my dreary and listless world, clouded with people and their blurry vision and there well-rested ignorance.
Then I see the other Insomnia Addicts.
They reflect like a mirror—dull eyes, chapped lips, and a listless march. Sometimes they part their lips as if to whisper forgotten secrets, but they close them again and return to staying awake.
Their eyes are bleary colors.
Mud browns, rain cloud grays, wilted greens and rainy day blues.
Their voices are like sandpaper, or the voice of someone who has ruined their vocals with years of cigars. When they speak, you want them to stop. You want to cover your ears and bite your nails. But they speak nonetheless.
They have forgotten joys. They have forgotten music.
Perhaps it was when their voices changed and they could no longer sing. When music arises, they do not dance. They do not sway to it.
Instead, they watch the rested with their rheumy eyes and scoff at those who twirl their feet.
I do not know that I have reached that level yet.
When music comes, I still sway. Sometimes a lyric or two will escape my wearisome lips. But like them, I am losing my ability to sing and dance.
I am losing my ability to lie.
Children lie more than adults.
They do it easily, because children are selfish.
The Rested lie easier than the Addicts, for they are selfish too.
I will not go back to sleep.
I think I am better this way, Awake. I do not sing, but I do not lie. I my voice is not pleasant, but I speak truths.
So I will join the other Insomnia Addicts, and I will stay awake this time.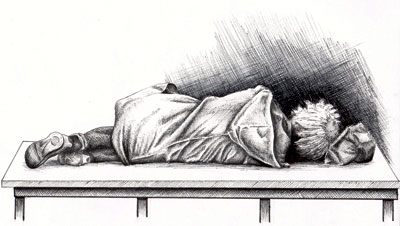 © Devin N., Sherrills Ford, NC