Addict
January 10, 2018
He was my last and final breath.
It was a toxic relationship.
But I loved him,
Unhealthy.
It may be.
But he made me able.
Able to breathe.

And yet again,
My lover,
My anger,
My fix.
It cannot be suppressed any longer.

As I drew in the smog,
The poison flowed through my bloodstream,
Suffocating my lungs
Of what little oxygen I had left.

His voice,
It slowly started putting me to sleep.
"Come outside,
And I'll slowly chip away
At the last bit of sanity
You have left in your grasp!"

He was my only hope,
My only one who loved me
To not leave me behind.
He sold me love for five-sixty-nine.

He made my two fingers warm
When I was cold,
And my heart had shivered
From the pain I had been left with.

Because you may say that it is a nasty habit…
But I'm telling you
He is what is keeping me alive.
And that's why I let him feed.
And that's why I feed-
My body these horrific chemicals.

It's a sense of euphoria,
A bliss.
Of being able to take a deep breath
And exhale
With the flicker of the flame,
There was a glimmer-
A shine of hope that I have left.

It is the toxins in my mind,
In trade for the toxins for my lungs.
"It's bad for you!
It causes cancer!"

You don't have to tell me another word.
You're wasting your breath.

I know.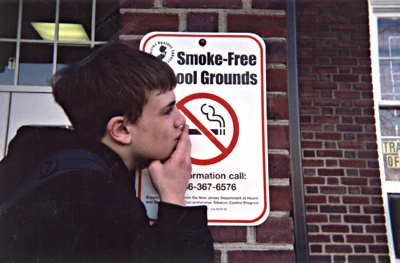 © Ali S., Pompton Plains, NJ