House of Cards
November 6, 2017
She tried to build her house-
But her bricks came tumbling down,
And she realized they weren't bricks.
They were merely her house of cards.
But there were several missing from her deck.

She began stacking them
Carefully,
Daintily,
So that the paper rectangles
Wouldn't crash to the ground.
Her hands were icy,
And her eyes had glazed over.

She'd been building her paper
House since she stepped out
Of the womb…
Looking for love,
But never satisfied.

On days that she didn't want to speak,
She locked herself in her
Fragile home,
One that she built, but-
It wasn't strong.
She told everyone it was though.
And they all believed her.
They left-
Running away from her.
They were frightened,
Scared stiff.

Her heart grew icicles and
Her blood had hardened,
Frozen-
And she stood there,
Unable to move.
She was like a statue.
Cold, and isolated.

She waited for her prince
To save her.
And he'd came.
He looked at the house of cards,
That became so enormous...
It could be a castle.

He took his sword and-
And he knocked it down.
He grabbed her and pulled her into a
Kiss.
Her eyes darted open,
She felt warmth run through her;
And she looked confused-

She tried to speak,
But no words came.
He smiled at her,
And she flashed a faint
Nervous one.
And as she did-

He had left,
But not without
A heavy heart,
And she held it in her hands,
And he would always have hers.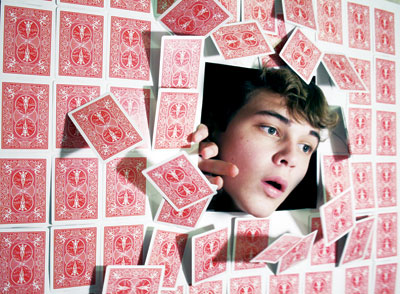 © Mike B., Harrisville, RI