death isn't a native new yorker
MAG
October 11, 2017
i met death on the 'n'
train heading home
from coney island.
he was holding a
hotdog and a subway
map upside down (death
isn't a native new
yorker) so i asked him
where he was heading
and he said barclays,
i got some basketball
tickets online. besides,
i love the train. then he
smiled. who likes the
train? i asked. it's all
broken dreams and
princess bride rats.
death laughed – tilted
his head back so that
his midnight eyes roared
with darkness – he told
me, you're such a human.
why is it that you never
see true beauty until you're
dead and gone? every soul
i pick up explodes in a
thousand different colors
as soon as my shadow
grazes their skin – i think
the real reason humans
die is because they never
got the chance to tell the
universe of the miracles
they saw in the last few
moments of living. death
licked mustard off his
fingers and, seized by the
peculiar feeling in the
molasses air, i said
there are things you don't
know either. humans die
because they never get
a chance to say goodbye.
he stared at me for a moment.
you see, little human, goodbye
isn't a problem when you are
forever. then he got off at
36th street (i suppose he has
the time to be at the wrong
stop). i walked home instead
of taking the shuttle bus, and
the sky was suddenly the color
of amaranthine petals – i gave
three dollars and a few quarters
to the woman who sits outside
of rite aid, and she showed me
a charcoal drawing of a man
eating a hot dog on the 'n' train.
everything was smiling – the
concrete, the polygon clouds,
my shoelaces – i felt the whole
world enter my being through
my fingertips, and i wondered
why living felt so much like
dying.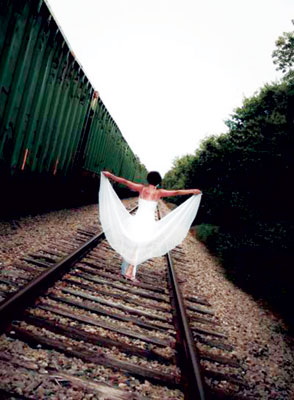 © Olivia E., Alto, MI