Starlight
August 30, 2016
She is beautiful, yet tragic:
A star that has fallen to the earth.
Like a teardrop of the sun
She walks through life,
Shining her golden light on all she meets,
Yet beneath the glowing exterior
A hidden heart lies
That fights for her life each day.
She is weary of staying alight;
Sometimes her light flickers
On the verge of dying out,
Yet she has never given up.
She is the strongest of all flames,
Attracting the moths of darkness
To bask in her irresistible glow.
Some moths see past the shining façade
To where she hides a center
Of broken and fragmented stardust,
And they try to save her golden fire
From fading away.
Her eyes conceal glinting embers
Full of fierceness and life and hope,
So I do my best to keep them alive.
She saved me, this child of the sun,
From the endless darkness I was in;
So if she is a shooting star
I will wish upon her,
That she will never fade out or die
Because even though I don't deserve it,
I cannot live without her light.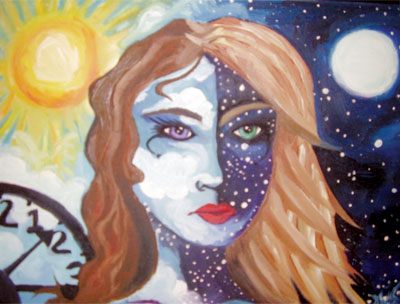 © Amanda S., Attleboro, MA