Fallen From Grace
March 22, 2016
I've fallen from grace
Crashed through the sky
Landing crumpled where I lie
My sins are what sent me tumbling
Weighting down my soul.
Wings ripped out
Im bleeding from the scars
I've been cast out forever
My golden halo no longer shines
My sins forever haunt me
Lies, darkness, and empty eyes.
My fall from grace has left me hallow
Wishing for the girl who used to fly
Before the lies
Before the wrong paths my feet followed
My mortal sins confine me
Tormenting me in the form of
Darkness and daemons
which attack me from all sides
As they invade my mind.
If not for  being branded on my soul
I'd just wash them all away
Hoped to turn the water black
Cleansing the shadows to light again
Ill live amongst the sinners now
Forced to fight and try to survive
It's my eternal punishment.
Forced to wonder with those like me
Other who have fallen
because of their dark and secret sins
Aging till we die.
Maybe then I'll be forgiven
For the sins written in my soul.
Maybe then in deaths embrace
ill be able to fly again .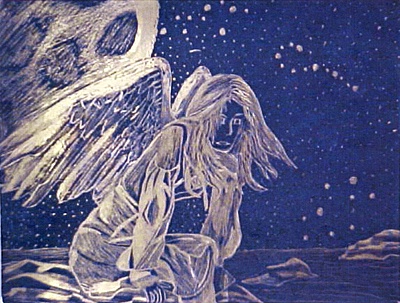 © Kaylen C., St. Clair, MI