The Earth and the Sky
March 19, 2016
I was the Earth,
Aching from the futility of pouring out my riches
Just so they could be disgraced and abused.
My skin was growing cracked and dry,
And all the suffering filled my valleys
With the dark circles of my exhaustion;
The reservoirs of my happiness sank low.
The Sky was my friend,
Cloaking himself in the grey of mourning for me
And weeping at the sight of all my suffering.
From the east to the west he spread out his arms,
Covering me in his expansive, comforting embrace
And soothing my parched skin with his tears;
The hard rock of my heart softened into clay.
Now together we stay,
Staring into each other's eyes with equal joy;
His deep blue eyes gazing into my hazel ones.
And even though the green may waste away
And the azure fade into an endless grey,
No one may separate the air from the one it feeds
Nor restrain the Earth's deep-rooted love for the Sky.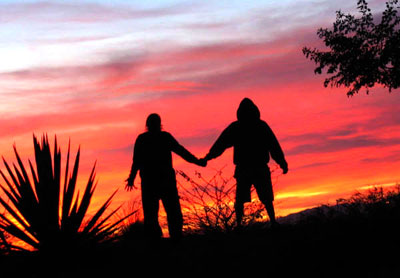 © Rosanna S., Phoenix, AZ