Memories
February 14, 2016
My father and I would laugh at the saucy punchlines,
The overt lip-to-sound discrepancies found in '70s Kung-Fu thrillers,
Packing profusions of butter-plastered popcorn into our mouths,
Allowing for a war of wet willies to ensue as the Action aroused us.
On Sundays, we would dine at local ice cream parlors--
Those sacred shrines of sweetness smelling of scrumptous saccharin--
Licking our soggy waffle cones and counting Volkswagen buggies,
Sitting on a rusty bench that could barely balance our love.
Some nights my father and I would marvel at the sky,
The ebony mistress of Day disrobing her risque pulchritude
As we'd repose on grass mattresses and tally the infinite stars,
Summoning slumber through the songs of our fatigued, inner sloths.
Alas, these splendid memories evanesce into oblivion,
Akin to my father's ashes--passing from hands, to breeze, to frenzied seas;
Akin to my sense of sanity--passing from me to tempestuous seeds--
No longer held, but soon free.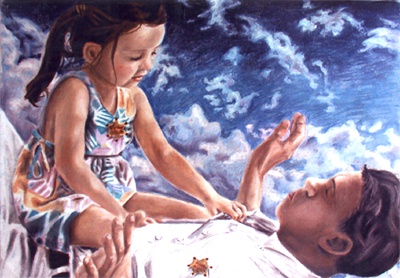 © Meg S., Andover, MA