Parenthood
February 8, 2016
The yelling wouldn't stop.
each undeserved blast grasped and coated my thrashing heart
forming layers upon layers
calming
numbing
The yelling wouldn't stop.
the suppressed spirit within screamed and cried like a senselessly impassioned child
yet my features dulled
timid tears cowered behind hardened brown eyes
sinking into my expression
The yelling wouldn't stop.
pebbles of false assumption
tossed about in a carelessly harsh manner
showered down
penetrating the gently effervescent river of my being
I couldn't stand it, yet I stood
absorbing these untrue claims to my identity
The yelling wouldn't stop.
my teeth gripped my stiffening tongue with such a grinding intensity that I felt certain that I would soon explode with curses and vapid insults
I would surely become my own worst enemy
allowing these descriptions of a wretched girl to become descriptions of myself
I would shove; I would hit; I would yell
I would run
But the yelling did stop. It always does.
it is soon forgotten
but I remember
over and over again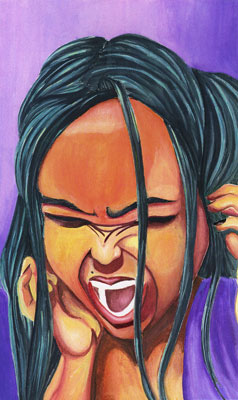 © Kriztille J., Briarwood, NY