Here it Comes
December 12, 2015
Why did I do what I did?
Life was odd before.
If I knew this would happen,
I would have never stood up.
It doesn't matter that I stood up,
I took the blunt force of the hit.
No one else knew.
No one else could tell,
My side of the story,
Besides the other one involved.
But the thing is,
He was trying to do me a favor,
Something special for his sweetheart.
Something to help with the mess,
Only to make it the way it is now.
I'm not mad at him,
Or even blame him for anything,
All I know is not nothing,
And not possibly everything.
Caught in the middle of a truth,
And a lie.
Trying to figure out which one is right.
Living your life as someone else,
Just to earn the pride of somebody else.
Mistakes that are made,
Are lessons said.
But how can you learn,
If it's not your lesson.
Being the star of someone else's story,
Yet not a story for your own.
No where to feel right,
Where is that right?
Trying to stay strong,
More like crying along.
Trying to figure things out,
With not much to do.
Trying to write your life,
The way you want.
But you just keep tripping over,
The stuff that happens daily.
Stuff you shouldn't let get to you,
But does,
In the blues.
Trying to stay yourself,
But who is yourself.
Trying to find out,
What makes you not good enough.
But nothing can be told,
Not at least being bold.
Who am I?
I don't know.
Shouldn't I know.
Yet that's the least I worry about.
Constantly looking over your shoulder,
Afraid of what you don't know.
It's like what you will do in ten years,
You think you know.
Bu what you don't know,
Is that you are not going to be doing that.
It's something you would never suspect.
Dreamed this before,
Thought never would have happened.
Weeks later,
Here it comes,
Comes a wild ride.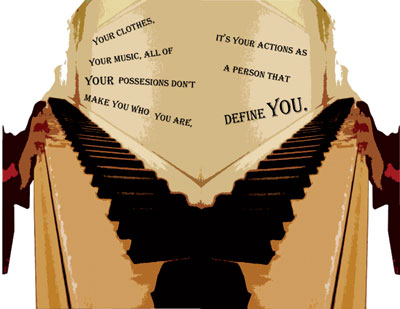 © Brad F., Stewartville, MN