The Eyes of the Sky
December 2, 2015
They say my eyes inspired the ocean
To be such a wide, infinite blue;
That even the eyes of humanity
Mirrored my deep thoughts
After gazing into my eyes for too long.
They say that eyes are the windows to the soul,
And mine are absolutely no exception,
Piercing you with the occasional glimpse of forever
If you look carefully enough.
At night my eyes are spanned with velvet,
Twinkling and sparkling
As I try not to laugh with joyful amusement
And disturb the sleeping world below.
I have seen every sunrise and sunset
Since the beginning of time;
My eyes grow golden each morning
With the energy of rebirth
And fall to a royal purple and red
As I bid my kingdom goodnight.
Some days when I feel particularly blue,
My eyes cloud over with a crestfallen grey
And I can't stop the tears that well up
From falling to the crepuscular world below.
The tears slip from my ashen face,
Each droplet shining with sadness
As they meet the ponds and rivers
That reflect my dull eyes.
At last when I have no tears left to cry,
Hope returns to my expansive expression
And my eyes are lit up with a sunbeam of a smile,
Bathing the steamy earth in its warmth.
But just as soon as the light appears,
It can swiftly shrouded with darkness.
My eyes hold the rage of a storm;
My short temper instills fear and awe
In those who have seen the occasional anger
In my darkening, powerful gaze.
One flash of anger in my eyes
Can strike terror into the hearts of men,
The eerily silent aftermath leaving them trembling.
My eyes hold the light and the dark,
The day and the night in their steady vision.
They miss nothing and never rest,
Always open to both reality and the impossible.
They say my azure gaze reaches
To the very ends of the earth,
Guarding over everything with care
As I bathe the world in colour.
They say my eyes are the portals to heaven
And that they hold all the mysteries
Of the so-feared unknown.
They are not so wrong to think so.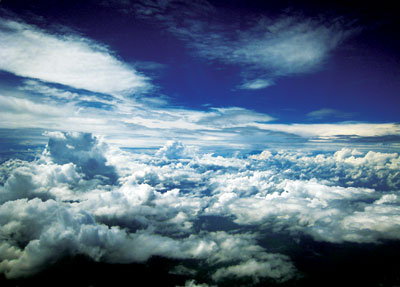 © Jacob W., Oklahoma City, OK