Time Machine
October 30, 2015
Look
I'm just like you,
     full
          and empty
               and everything
                    and nothing
     and all the spaces
tucked
 
10.
          in between.
 
We grew up clutched between hands
of mothers,
fingers that boxed languages
and mastered the practice
of crafting lullabies
from steady shifting bodies,
cradling our ever-changing outlines
tightly against familiar bones
perhaps to decrease surface area,
our shadows melt
 
9.
          into another
 
footsteps outgrow each year,
each month
the moon unveils its blooming image
across a galactic sky,
suspended luminescence,
and for a second we remember
where we came from,
milestones and timelines,
all 365 days of a cycle
we trespassed,
for a second
 
8.
          we forget
 
every heartbreak,
white lies and promises
crumpled with ash,
every goodbye.
Or maybe it was a new
 
7.
          beginning.
 
Look how beautiful the sun
emerges,
fire and clouds,
a painted symmetry
like a rising Phoenix,
like wings

6.
          I never found
 
you.
left after she died,
only two years
before I was thrown into unfamiliar territory.
I've been searching for answers
in all the wrong places:
in empty mugs
and picture frames
and notebooks.

5.
I've been wondering
how time manipulates
and creases its knees
into an hourglass,
how we get swept away
 
4.
          like dust,
 
how minutes and words
spell miscalculated eternities across tongues –
when we were young,
the skies danced for us
and we forever questioned
 
3.
          Why?

2.
I'm beginning to understand
why we shatter into fragments
and incomplete thoughts,
when ribcages just aren't enough
to sew hearts into flesh
sometimes
nights suffocate us
and tears become another means of communication,
why we lose pieces of ourselves
in order to make room for change,
enduring transformations.
Tonight,
I'll fold the corners of my paper skin
 
1.
          into an origami crane,
 
creating wings
that will one day rise to reclaim
a kaleidoscope sky,
and when time lifts me into the clouds,
I will finally fly.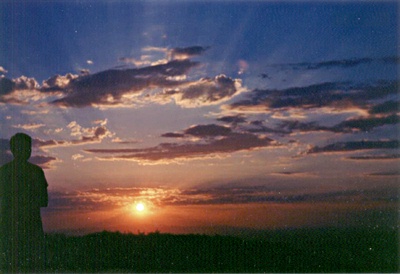 © Jovee B., Dededo, Guam