Glacier Song (Anxiety)
October 30, 2015
In this moment,
every cell in your body is breathing,
colliding whispers until all 206 interwoven bones 
become a symphony.
You braid fingers along quivering thighs,
the room, the room is spinning,
and so is the song clenched between
constricted lungs.
It's like the atmosphere is squeezing every word
farther down your throat
and every stare feels like another dent molded into clay flesh.
It's like being lost (or perhaps half-drunk)
on late night highways full of streaming red lights
all screaming warning signs
and you can't think straight.
It's like being in a maze,
or being a maze
(you can't escape yourself).

It's becoming a glacier,
existence spun together by a steady temperature,
melts with uneasy laughter,
break downs
when a flickering sun bounces fingers across a retreating surface,
the sweat of your palms,
hands are shaking seas
vague hints of withdrawal,
shrinking.

Remind yourself that your heart
is only a disillusioned compass
striving to find its way back home,
back to familiarity.
You must learn to engineer comfort levels.
Remind yourself that breathing
is the only thing you can control
when your whole body is swaying to a rhythm
you do not know.

Tell yourself that this is a metamorphosis,
just a few steps closer
to breaking free.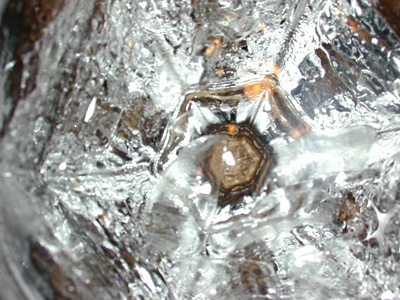 © Maria R., Allston, MA