Jersey
October 26, 2015
New Jersey seeps of sadness,
a state of lost license plate numbers and people
drowning in tail lights,
drunk under the neon signs of Route 22.
we live in the shadow of a shimmering city,
crawling on our scraped elbows
to catch fistfuls of its afterglow
and young parents who immigrate to their
suburban deaths.
we deceive ourselves into
watching the airplanes from EWR
light up the night sky
and calling them comets.
we are waiting for an escape
we'll never find in a parkway exit,
hiding in bridges and tunnels
and taking refuge in Springsteen songs
that play over and over again on the radio,
a sad moonlight sonata to accompany the 8 pm traffic
on the commute home.
we become hardened by the shoreline
and late night diner shifts at 1 am,
cawfee that stains our teeth
and leaves a bitter aftertaste.
we paste photos of magazines on our salon walls
and dress ourselves in Parisian fashion;
but the gritty asphalt under our nails refuses to
leave us and we are too used to having our gas pumped for us
to learn how to do it ourselves.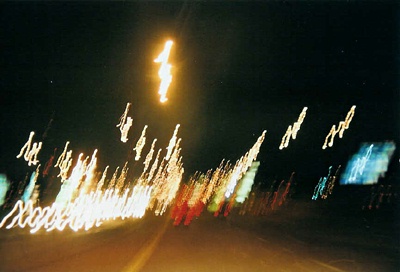 © Matt M., Ponca City, OK