Pale Moon
October 24, 2015
hullo Pale Moon,
are you up there alone?
well same here....
wait-aren't you surrounded by stars?
sorry, i forgot....they are so many light years away
i am in the same condition too
as you can see through the window
books lie everywhere
yes, they offer comfort
but people around me, just like the stars around you
are distant......they say stars burn
these people have hearts that must beat as well
yet, they look so cold at this distance
happiness is but momentary for me
i have what the others envy
a good report card, a good opinion from elders
but of what use is all that-
when
time stands frozen and sadness shackles me
while despair trickles down on my head
agonizingly so....
drop
by
drop
so you can talk to me....
for you seem to be a good listener
thank you for your silver light
pure and cool, it soothes me
you are a pearl in a diamond encrusted cloth
and i place you in a small little box that i open only for myself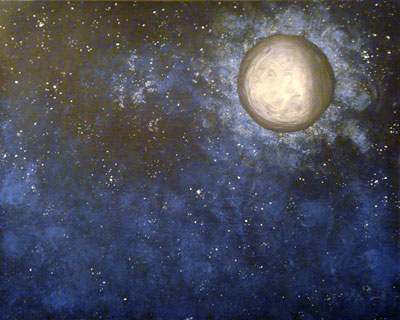 © Allison H., Vancouver, WA