Pearls
MAG
October 8, 2015
My grandmother pulled out her jewelry box,
during her tea in the mid afternoon,
and she unlocked that box with a silver key
from the mantle underneath a clock with a full moon.
And as she opened up that box
to reveal red velvet lining.
and on that lining were necklaces and rings
all hard and glittering.
And out of that jewelry box
my grandmother handed me
a pearl necklace with pure white beads
milky and smooth
like sea foam from Maine in the spring
She told me to wear them to the dance
along with my gorgeous black dress
and to be sure not to forget
the bright red lipstick
For she told me she it was time
to become the woman inside of me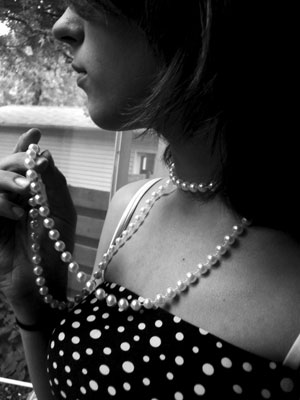 © Elaina V., Canton, OH