Sorry For Pushing You Away
August 6, 2015
The more your'e spending your precious time with me, 
even you are so busy dealing with your commitments,
and giving time to get closer with me, and know me more,
the more I am showing my real self to you.

                                      You cared for me at my best.
                                     You cared for me at my worst.
And that's okay with you.
                                      By that, you gave me assurance that it will be alright.
                   But, there's something that really fears me—
                                                 And it is you, leaving me.
As time passes by, I got more clingy to you.
                                                                 I annoyed you more, and more.
                                                             I really love teasing you, by the way.
The more you stayed with me,
the more I was able to hurt you.
       It's always my fault.
                 Sorry—-
                                        Sorry for pushing you away.
                                                                                    I tend to be possessive.
                                                                                    Sorry.
But, that's the only way I know how to show
how much I love you.
                                          The more you were there,
                                   the more I took advantage on you.
                I tend to overlooked
                        my feelings, and got more
                                       insensitive about how you feel.
            I forgot that you were struggling a lot. I'm really sorry. I'm selfish.
I tend to think
ALL about myself- how much I need you, how much I wanted you to stay.
                           AND, it feared me that you'll left me.
                               So, I decided to push you away.
              To escape the pain, and all these insecurities I have.
To forget all the things the thoughts I have
                             that sooner, or later, you will leave me.
And… I'm sorry for that– I really regret it.
I really do.
(h.i.)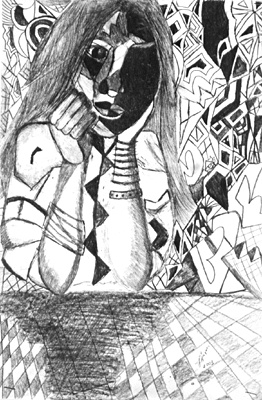 © Joy H., Kannapolis, NC