I am a black cat
June 26, 2015
I am a black cat.
Since the day I was born, I've been told that.
"Yes you are a black cat"
A-nobody, hated, prejudiced against, and a doormat.
Yes you are the most hated black cat of all
Appalling, grueling, and only when the night approaches you crawl-
Am I a black cat? Am I really a-nobody after all of that?
It is scary to think about it this way
It only adds up to my dismay
I've been nurtured to believe so
And I always wondered how will I ever grow?
Amid all the mess, amid all the clutter,
I never found peace.
The black cat grew and the fear consumed its soul
Its claws arched, and it never learned to stand tall
Only the darkness consoled her soul
And now they wonder why the black cat is being like this
Just wonder how a creature can turn hellish from bliss
The black cat grew and so does its demons
The public eye scrutinized it, the public eye shattered it
Now all that is left is what the black cat was forcedly tricked to believe
Broken like glass, sensitive; an atrocious cat that wears its heart on its sleeve.
How funny their wonderings, how voracious the eyes of the others are
How scary when the morning comes, how dreary to hide ones scars
Troubled I am by all of these beholders
Twenty-one and never found a shoulder,
To cry on, to gain power from,
How harsh are the eyes of the beholders
I've been cold, and now I am growing to be colder
How harsh are the eyes of the beholders
When the nights come, I find the what-so-called relief
Or isn't it? I can't tell anymore
I only learned to shut my windows, to close my doors
Who is the black cat to decide?
Who is the black cat but a rose that slowly died?
Who Is it but a lion without a pride
Who is it but me?
After all, all that I know is I am a black cat
No religion protected me, no family sheltered me
But eyes that took off my identity piece after the other
I am a mask, but when nights comes in I start to uncover
I am a black cat, maybe?
Maybe not, I can't tell
All I know is that in my depths- the most unvisited, deepest- demons dwell
I don't know who am I
The eye of the beholders never gave me the chance to decide
I never had a moment for myself just to cry
I only learned to pretend, suppress my feelings, and put them aside.
Am I a black cat?
All I know is since day one I've been forced to believe that.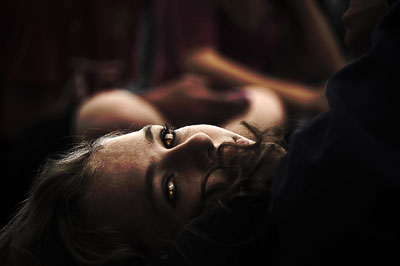 © Calvin C., Salt Lake City, UT