Painters with Words
June 21, 2015
The night is full of light snores
But he is awake!
He wriggles out of his blanket
Not a sound does he make.
With a sleepy glance at the clock
Tiptoes out of his room
Breathes in the cold night air
And forgets fatigue or gloom.
Nobody is awake yet
But he'll give them a surprise
Throwing open the window
On the horizon he trains his eyes.
The first splash of pink stains the sky
Delighted, he pulls up a chair
He'll get a pen and some crayons
And create a masterpiece, right there.
The orange creeps in hesitantly
And he begins to draw.
But look! What's on his paper
Is nothing like what he saw!
The sunrise is progressing
The household begins to stir
He tries, but drawing is a skill
He's finding hard to master.
Almost having given up,
He thoughtfully lifts his pen
Turns over the paper, and
Tries 'artwork' once again.
This is a different kind of art
And he notices with delight
That he's created the perfect image
Of the stunning sight.
No colors are sufficient
To do justice to the colors of the world.
And that is why artists like him
Become painters with words.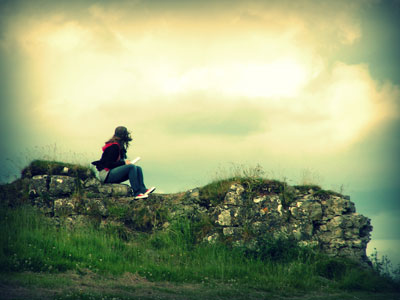 © Caroline C., Coronado, CA