Microcosms
June 5, 2015
If I put my water glass two centimeters from my eyes
so that my finger smudge looks like
a topographic map,
maybe I'll see life in the cloudy swirls –
the bacteria I leave behind, traces of me like
the American flag on the moon.
I'm looking for a hint of movement, maybe
the murmur of metabolisms that I feel
should resonate with mine.
I learned in class that from body to body,
bacteria are aliens, and
from finger to finger, they are
birds, dogs, chameleons, sharks,
always in motion of evolution through division.
And they have been mine
from the time they settled on my unborn body,
stuck to my wet newborn skin,
flew into my wailing mouth with my first foods,
and they have been changing with me.
Civilizations rose and declined,
withstood foreign invasions,
intermingled and conquered
on their warm planet, me.
In the steaming shower, as I slather soap onto my skin,
I feel a little bit like God calling down
that great cleansing flood.
Each soap bubble carries away millions,
but through it all, there will be
survivors in the minute crevice-arks.
Soon my ridged landscape will be thriving again.
I wonder if the earth is sometimes pulled
out of her spinning indifference,
and into the realization that
she is teeming.
We are teeming –
infinities nestled in infinities,
worlds wandering within worlds.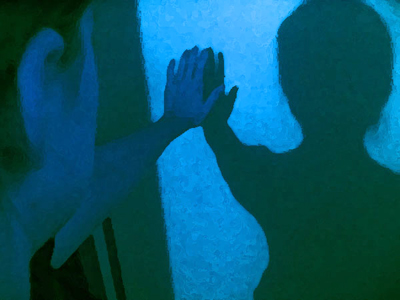 © Katie C., Libertyville, IA