Purgatory Between Two Hells
May 27, 2015
After a long day of silence and endless waiting,
The last bell rings; I am released from my prison.
I rush to my locker, and in fifteen seconds,
The exit door welcomes my eyes.
A quick push and the afternoon light blinds me; I'm free!
I start the three minute walk him,
Breathing in the refreshing yet polluted city air.
At about halfway, the relief of my previous burden leaves,
And my heart sinks as I realize where I'm going.
All of a sudden, the buildings on either side close in,
The ground seems dirtier, the sky seems grater,
And the grass seems sicker from the poisoned earth.
My feet grow heavier until I slow to a halt.
This is where I'm stuck; where I hang, suspended indefinitely.
Where I come from is one hell, where I go to is another.
Each hell is equally torturing; they just have different names.
I pause for a moment, then with a defeated sigh,
I continue walking, realizing I have nowhere else to go.
So, knowing I will return in the early hours of the morning,
I leave me familiar oasis: my purgatory between two hells.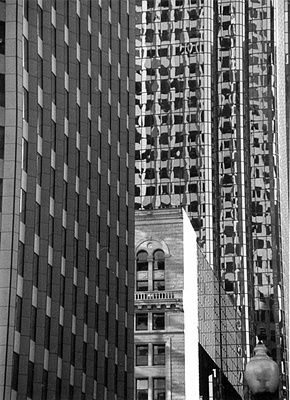 © Natalie D.,Marblehead, MA