Atlantic
May 19, 2015
Inky tentacles in my brain search for you at 1:45am,
wrapping around each syllable of your name,
Yanking you out of murky waters,
flinging you onto a beach of glass shards
that carve into the skin of your chest
and grope beneath the tissue for your heart.
I watch from a sinking ship.
You yell for me but the name on your lips isn't mine.
It's not mine and I'm not yours.
I can feel the water against my skin but it isn't cool.
Scalding sea foam caresses my skin.
A pyromanical current laps at my veins.
The tide invites me under
where all I can hear is you crying
like you did when we broke up
and all I wanted was to hold you.
I open my mouth to tell you it will be okay
but another lie might kill us both.
I feel nothing until I crash onto the shore.
I crawl to you.
Glass shards rip my skin.
All I can think about is how pathetic I am,
crawling to you.
The beach is blanketed with blood,
I feel you breathing beneath my palms
as I attempt to hold your skin together.
You cry out as my tears fall into your torn-apart skin
and I remember that it finally ended
because all I could do was hurt you.
I collapse next to you,
praying I take the first last breath.
You stare at me but it's been too long
and I can't quite remember your face.
You're just a blur with vulgarly blue eyes,
devouring me.
Your heart stops.
Your chest deflates.
My fingers are on your skin and your skin is falling apart
There are gulls above us that are crying for you,
and I am crying for you,
and your face is porcelain.
Your body is a canvass that I've spit on,
a beautiful entity that I've devestated.
My mind is a chasm.
My mind is a loaded gun.
My mind is a sinking ship and a glass beach, 
and this is my fault.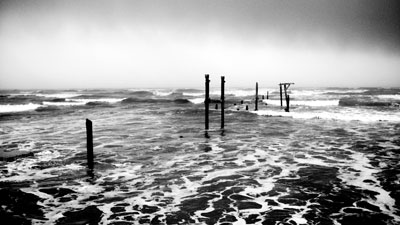 © Harrison L., Ruston, LA