OPPOSiTE
May 5, 2015
In our world, we're all dolls, and toys.
Every single one of us is a bully, we're mean.
But very rarely we'll receive an opposite, quite the noise.
They call them OPPOSITES. That's me.
We are all dolls, with cute button eyes.
Made out of cloth, our mouths stitched closed.
We can't communicate, converse, or celebrate.
We only interact, become disposed, create, and surprise.
With me as an OPPOSITE, I am not a bully.
The rule is, "If not the same, kill him or her, no mercy."
Whenever I'm outside, to be a happy flower,
I'm taken down like a weak unstable tower.
My mother was an OPPOSITE, hidden underground.
For a while, we were called extinct.
Until I was born, after my father had died.
She would think, come around, she would no longer hide.
She made a deal with the leader of us all,
and sold herself in exchange for myself.
I'd be enrolled in school, life, and casualties.
He'd happily, take me, with his wealth, make her fall…

I was now raised by normal parents,
abused, hurt, and taunted day and night.
For years, shut up, and not making appearance,
Until I had finally seen the light.
I was enrolled in school, elementary.
Friends, I was certain, I would make plenty.
Teacher, principal, students, galore.
Until it lead to suffering and gore.
At a bus stop, I saw two children,
whispering, gazing, and peeking at me.
When I waved at them, and tried to made greeting,
they turned away and weren't happy, as I could see.
We hopped on a bus, and rode to the school,
my happiness was blooming, oblivious like a fool.
I saw children throwing, and taunting like a tool,
people in fights, but pleasingly, in duel.
I began to realize everyone in this world
was the same and mean, a bully, and cold.
I wished, and told myself, to always be bold.
No matter the darkness, no matter I'm told.
We arrived at school, and hopped off the bus,
I was trampled, walked over, but didn't make a fuss.
As my lips were stitched close by a simple red thread,
this road I would remain, and continue to tread.

My first class, I looked forward to,
and became slightly excited.
I got back my bag, and sorted my things,
and found my desk, sitting right at the front.
The teacher shook her head, in doubt and shame,
but kept with her job, and taught the class on with chalk.
As I listened carefully, and expected the best,
a ball of paper hit her head, was the kid behind me.
She looked at me, as I was to blame.
I tried to speak the truth, but I could not even talk.
She pulled out a stick, and put me to rest.
Hit me in the skull, and knocked me out…
I remained the only one who could ever make a smile.
It never looked straight, this took me a while.
This processed continued, I wanted to shriek,
but what was holding me back, was a thread of insecurity.
The future went on, and one day was the worst.
My emotions became unstable, and my mind would burst.
I was cornered in an alley, and beaten to a pulp,
until suddenly, I slammed a fist down.
I took my hands, and attached them to my lips,
and pulled very hard, a tear forming.
Blood was everywhere, and I finally screamed, "HELP!!!"
this made everyone around me frown.

They were all shocked, in terror, and vain.
Nobody knew the pain, sorrow, I had been in.
It was the first time anybody had spoken in forever.
It was an OPPOSITE who changed mankind forever.
What happened then, I was left alone,
everyone seemed traumatised, and felt very strange.
I continued to feel awful and hurt,
and in my current age, I felt suicidal, I had changed.
Nobody had a way to apologize or say sorry.
But at least they'd realize, their flaw and guilt.
I wasn't done yet, I was sick of it all.
Only some people, continued to hurt me.
It developed again, and the bullies returned,
from persuasion, money, theft, and bets.
I was beat up, and suddenly one day,
I had enough of it all. I was finished.
It was late at night, and I sneaked outside,
in the morning what they'd see they couldn't unsee.
Where a statute sat, said, "Hurt the opposite."
I hanged myself by my neck on the statue's arm.
I was dead, gone, breathless and mouth open.
I left a note for the people who saw me.
The note sat in my pocket, somebody removed it,
and read to themselves, quietly.

YOU HAD NO IDEA, THE LOVE I COULD GIVE YOU.
YOU FOLLOWED, WERE MOTIVATED, INSPIRED BY A VILLAIN.
JUST BECAUSE SOMEBODY HURT YOU, DOESN'T MEAN YOU SHOULD BE A MONSTER.
THAT MAKES YOU AN IMPOSTER TO WHO YOU TRULY ARE.
WHY MAKE SOMEONE GO OFF AND DO WHAT I DID,
WHAT WERE YOU THINKING? WHAT WERE YOU TRYING TO GAIN?
SEEING THE PAIN ALL RAIN DOWN ON MY POOR LITTLE BRAIN;
YOU SHOULD HAVE EXPECTED THE WORST OUT OF ME.
NOW THAT I'M DEAD, THE LAST OPPOSITE GONE,
REALIZE HOW FAR SOME PEOPLE CAN GO;
WHEN HURT, AND PUT THROUGH DECADES OF TORTURE,
ALL OF YOU HATE EACH OTHER AND DON'T HAVE A SINGLE FRIEND.
DON'T BE A BULLY, BE THE OPPOSITE.
BECOME SOMEONE NICE, AND IGNORE THE HATRED.
OTHERWISE, OUR RACE WILL BE NOTHING BUT DARKNESS.
SPEAK UP, DON'T SHUT UP. LET IT ALL OUT.
THE END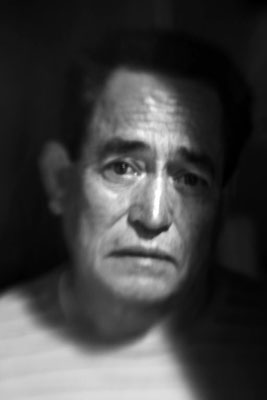 © Adam P., Goleta, CA