A Lesson in Loyalty
April 19, 2015
Dear Prospero,
  Humans are constantly searching for a purpose
  As to why they should keep a promise,
  Or hold other humans to them.
  One good turn deserves another, right?
  Ever since you have freed me
  From the hands of Sycorax, stained with invisible blood,
  You have entrusted me into your servitude.
  As if I felt gratitude towards you
  For rescuing me.
  I am not sure
  That you treating me as a human
  Is a good or bad idea.
  I can see your emotions as clear as a snow-white cloud on a summer's day,
  But you forget
  That I cannot feel the breeze.
  I am not human,
  But I am not exactly sure if I am anything else.
  So please, dear Prospero,
  Do not take my plea for freedom as something you have control over.
  I could disappear into the thin air whenever I please,
  Or maybe the spaces between the air, I will never know my true strength.
  Instead view my loyalty as a bee in summertime.
  I shall help you carry out your wishes,
  As I collect your pollen of human feeling,
  To create sweet honey of an identity.
  I would like to rephrase,
  I am not fully human
  But I am a part of your human spirit.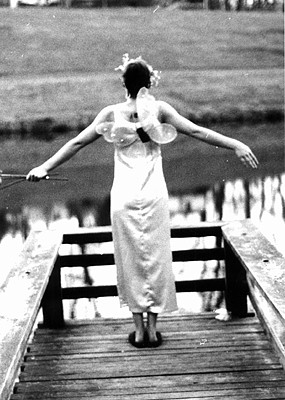 © Jessica T., Cincinatti, OH