A Dance of Foxes
April 14, 2015
Under the moonlit night
In a distant meadow,
Around a golden fire
The foxes dance.
Amongst them is one
With a coat of argent starlight,
Eyes swirling with galaxies,
Nine tails of stardust.
He laughs the loudest;
He dances the fastest.
As the stars come out,
The merrier they all become.
Carefree, Lively,
Innocent, Majestic.
Tantric music rises into the atmosphere
As faeries and nymphs rise from their hollows
To join in the festivities.
They greet the Fox with wonder,
Admiring his coat of stars
And his tails of celestial majesty.
His smiling face welcomes them,
Gracious and genuine.
The tantric music grows louder;
Sparks dance towards Heaven.
The witching hour blazes
With silver-white moonlight.
Faerie wings of crimson and gold,
Nymph skin glowing blue and green,
All add color to a dance of foxes.
The night sky fades from black to grey,
Warning of the approaching dawn.
Nymphs return to their watery hearths
As Faeries drift back to their tree hollows.
One by one,
The foxes dance away.
The seductive music pulses softer;
The stars dim and dissipate
Until at long last, alone in the meadow
The nine-tailed fox dances.
His laughter rings out with the gold-and-rose dawn,
Welcoming the sunlight
As he welcomed his friends.
His silver coat and tails
Glitter in the daylight that breaks the horizon.
With a wink and a final twist to the music,
White flames consume his body.
The music snuffs out with the blaze
At least until the sun sets once more.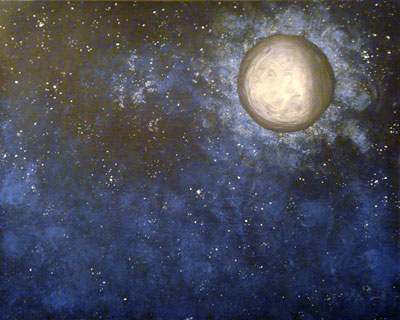 © Allison H., Vancouver, WA