Personified Seasons: Summer
April 11, 2015
The call of adventure constantly whisped around him;
he was just that kind of guy.
He had a trumpeting, bellowing, all-consuming, earth-shattering laugh,
and stories that brought it out to play.
He could draw you in with his handsome speech and charming looks,
but you stayed even after that wore off and he was just himself.
His hair was an ocean of waves, crashing with reckless abandon.
His skin reflected bronze in the gentle, loving sun, and his muscles
were blatantly attractive, timidly flaunted on his perpetually bare chest.
His eyes were enthusiastically green, his smile effortlessly comforting.
His voice thundered and reverberated through conch shells, sailed in the balmy breeze.
He was alive, bustling, exuberant, breathtaking, brilliant.
He was lip-puckering sweet-sour cool condensation-dripping glass of lemonade
on an old lazy hot summer's eve porch swing.
Everyone enveloped him, soaked-up his bright, spritely effervescence and settled into him
so superb, perfectly comfortable, like they thought he would never leave.
He was a state fair henna tattoo, he was half-wilted ice cream,
he was the first sunrise and last sunset, cool cotton candy skies, and everything in-between.
The call of adventure constantly whisped around him,
and for a while he took you along for the ride.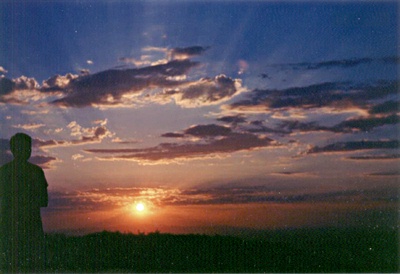 © Jovee B., Dededo, Guam