Shade
April 6, 2015
Surfing
Waves
Him;)
                                           Shade
                                         
Each wave rolls in like a blanket that flaps in the wind, gently.
His back reflects the sun in beautiful shades of yellow and gold.
Two tattoos are painted in dark pen, etched across his fine muscular figure.
His hair is golden in the sunlight, and water drips from each strand of hair.
His eyes almost match his hair, golden autumn brown.
His name echoes on my tung, Shade, Shade, Shade, Shade, Shade, Shade, Shade.
His skin is tan from the sun, and his eyes are lit like golden yellow flames.
My shoulders are relaxed and I feel a peaceful calm, like I could let go.
His words are like out of a fairytale, wise and true.
He tells me what I already new, but deeper, more structured and through.
I am like the tide, swept away by his glory.
Everything is crystal clear as I ride the waves so blue.
Nothing can compete to this moment so true.
Now I sit across the sand, listening to the waves crash upon the shore.
My gaze upon his back, not leaving for fear of never seeing him again.
His words still deep in my mind, like a wound that seeps love and wisdom.
Everything fits like a glove, this moment and the seconds ticking by.
This man is my day dream and my nightmare.
He's the one I would dye for, the one I could wish for more.
Shade is his name.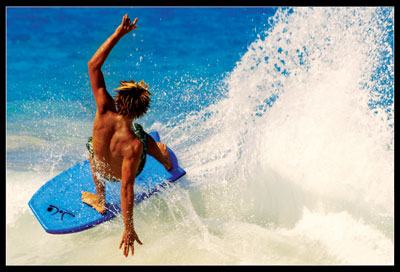 © Sarah L., Holualoa, HI