Our Relationship Would Be Easier If You Could Just Play Nice
MAG
January 28, 2009
She emitted a snarl that warned
of her vermilion rage,
and seized the shiny, silver toaster
(my breakfast cookware of choice)
and brandished it above her head
with threats of defenestration.
Oh dear, how will I ever create
exquisite frozen waffle dinners?
In one gnashing breath, she shrieked
and launched a rocket full of profanities
my way while simultaneously dumping
(with excessive grace) my gleaming
toaster into our saltwater aquarium.
Save the fishes!
You're not listening to me, are you?
No, not really. I know better.
Your words lose all sense of direction
when you are worked up like this, my dear.
Her cyan eyes flashed another warning –
the Doppler radar is forecasting severe storms.
Be prepared for anything, brace yourself.
I attempted to pacify the raging tempest; still
she captured some large wooden spoons
and red rubber spatulas (safe to 450°F)
(among other blameless bystanders to our fight)
and hurled them with unfailing inaccuracy.
With a splashing slap to my face, she snatched
her keys from the counter and with a BANG
stormed from our apartment for the last time.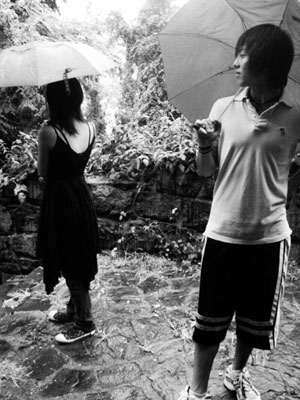 © Yuki M., Fort Lee, NJ