Sunday Night
March 22, 2015
We went back to the room
like we had done so many times before. 
I knew what was coming, had been looking forward to it,
to him holding me close, feeling his lips against mine.
I was giddy with excitement, so happy to be back with him,
after leaving with things feeling upside-down and backwards.
I sat on the top of my bed, close to the pillows,
smelling the lavander coming up through the sheets. 
He he didn't take off his shoes, he always took them off,
and I felt something sinking in my heart. 
He told me he had run into One, one he had left behind when he came here,
and apparently more than just running into happened. 
I could feel my arms reaching out to him, ready to forgive,
but he wasn't done.
"I want to go back to her," he said, "this summer. 
So I'm breaking this off now"
I barely heard the rest of his speech, the "it's not you its me" bit,
before he said he was going to go, and a forced whisper from me that yes, yes he should.
I waited until I was sure he had gone down the hall, out of earshot,
before I threw myself across my bed and sobbed.
He had been my first, my first boyfriend, my first kiss, my first real friend at college,
and I had foolishly thought it was going to last longer than four months. 
I was imagining summer months walking side-by-side u dear the stars,
showing each other our hometowns and introducing the other to our friends. 
I was imagining weekends sitting close to each other in the Commons,
knowing we should leave to do homework but lingering a little longer just to be with each other. 
I was was imagining him holding me tight  as we lay together, content simply to be with each other,
but that wasn't meant to be. 
The ache for him is lessened now, and I'm enjoying my own company,
but I miss him, I miss what he meant to me, what we meant to me. 
"What defines us most is how we rise after a fall" I read every time I leave my room,
but I don't know if I done falling. 
Will I rise well?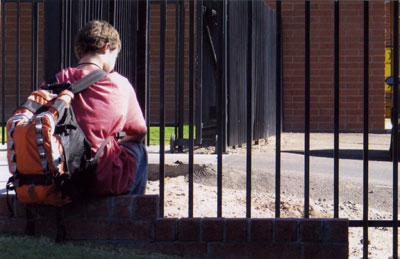 © Molly L., Phoenix, AZ